3D printed Iphone to microscope adapter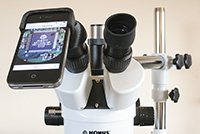 Recently I bought stereo microscope to scale things a bit. Though this microscope has option to attach camera, decent cameras cost as much as microscope itself or even more. So, I designed adapter for Iphone. This adapter attaches directly to en eye piece, so any microscope can be used. This adapter can be made at home on your 3D printer.
 You can download 3D STEP files if you need to build one for yourself.