Carambola powered robot v2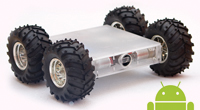 If you were interested in first Carambola based rover, you will love this one. First one was just how to connect and setup everything. This one is actualy usable and fun to use. Purpose of this rover is to replace crappy toy cars and to have more fun. Not fogetting ability to learn and build something new! It even has an Android application.
Goals set for this rover
Rugged
Easy to control
Controllable from Android phone or tablet
Video streaming
Lets start from fun part
Video and couple of pictures.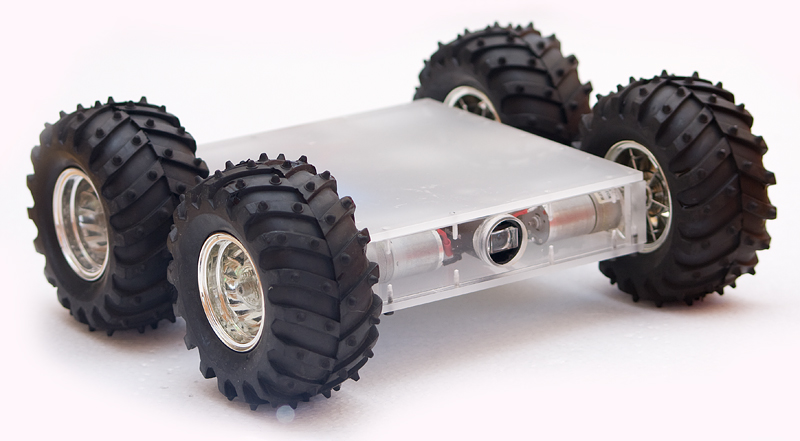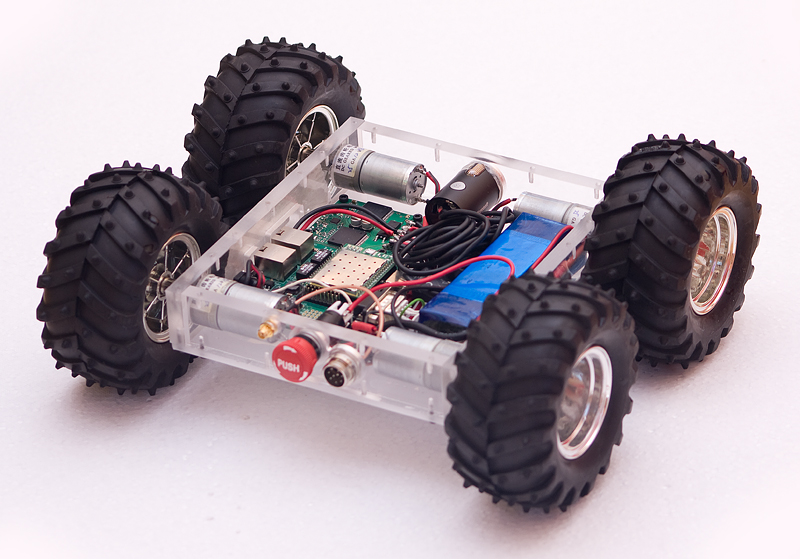 Used parts
Motors: from ebay (Torque: 130 N*cm, 12V DC, 60RPM, Diameter: 25mm, Length: 72mm, Shaft diameter: 4mm, Weight: 96g)
Camera:

720p Webcam Microsoft LifeCam Cinema

Motor controller: Pololu Qik 2s12v10 Dual Serial Motor Controller
Battery: 3SP1 3Ah LiPo
Chasis: I have chosen to use custom chasis, because it is easier to accomodate all parts the way I like.
Mechanics
3D (STEP) file of this rover can be found here.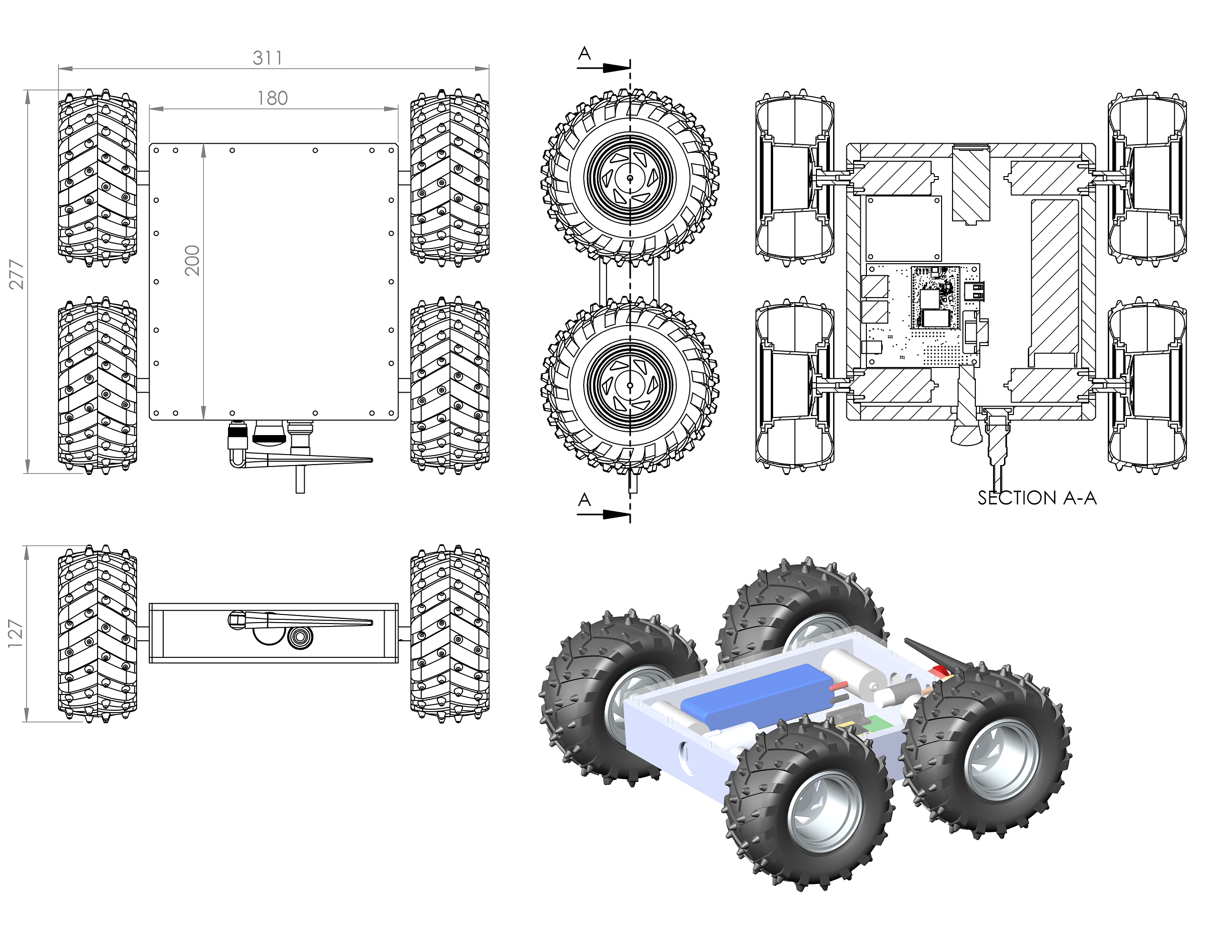 Electronics
Here is quick sketch how everything is connected.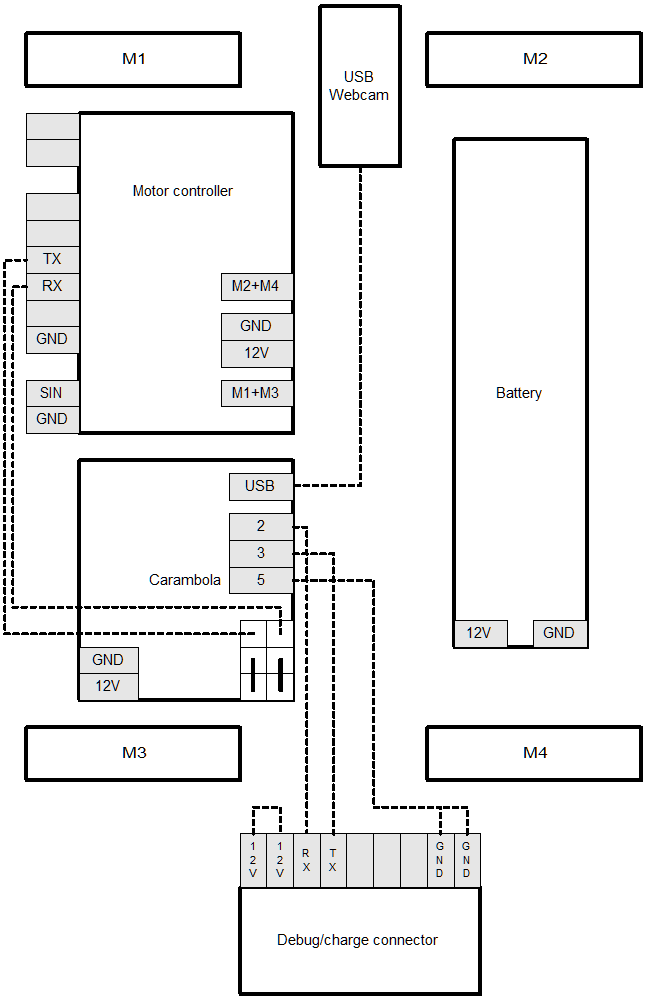 Carambola setup
Prepare firware
Kernel modules
Video Support
Select all if unsure
flash firmware
scp test@192.168.0.109:/home/test/carambola/bin/ramips/openwrt-ramips-rt305x-carambola-squashfs-sysupgrade.bin /tmp
sysupgrade -v -n /tmp/openwrt-ramips-rt305x-carambola-squashfs-sysupgrade.bin
Setup wireless in AP mode
rm /etc/config/wireless
wifi detect > /etc/config/wireless
vi /etc/config/wireless
vi /etc/config/wireless
config wifi-device  radio0
<..>
# option disabled 1
option txpower 20

config wifi-iface
option device   radio0
option network  wwan
option mode     ap
option ssid     'rover'
option encryption psk2
option key      'rover'
vi /etc/config/network
<…>
config interface 'lan'
option ifname 'eth0.1'
option type 'bridge'
option proto 'static'
option ipaddr '192.168.0.110'
option netmask '255.255.255.0'
config interface 'wwan'
option proto            dhcp
Connect to carambola
Enable connection from ssh
passwd root
Install necessary packages
opkg update
opkg install mjpg-streamer
opkg install io
opkg install ser2net
opkg install http://pkg.8devices.com/v2.2/carambola/packages/gpioctl_1.0-1_ramips.ipk
Setup
vi /etc/ser2net.conf
<..>
2002:raw:600:/dev/ttyS0:115200
vi /etc/rc.local
io 0x10000060 0x15
ser2net
exit 0
vi /etc/inittab
root@OpenWrt:/# cat /etc/inittab
::sysinit:/etc/init.d/rcS S boot
::shutdown:/etc/init.d/rcS K shutdown
#ttyS0::askfirst:/bin/ash –login  #<————- comment this line to disable console on ttyS0
ttyS1::askfirst:/bin/ash –login
Setup mjpg-streamer
vi /etc/config/mjpg-streamer
config mjpg-streamer core
option device           "/dev/video0"
option resolution       "400×200"
option fps              "25"
option port             "8080"
option enabled          "true"
Video streaming test
Run from computer (browser or vlc) – you should see video or picture, depending on URL you picked.
http://192.168.0.110:8080/?action=stream
http://192.168.0.110:8080/?action=snapshot
Control mjpg
Start on boot
/etc/init.d/mjpg-streamer enable
Start mjpg-streamer right now
/etc/init.d/mjpg-streamer start
Motor controller setup
I am not really sure what settings I am using (setup was trial and error method). In general you should:
Enable security timeout for serial comunications (if there are no data more than 0.2s motors will stop)
Set baud 115200 baud rate with jumpers
Set acceleration / deceleration and other parameters as you like (chose best settings for your platform)
More details can be fond here
Android
There are lots of things I stil don't know about Android. I have been toying with it for a week. This is also my first encounter with coding java. There are key notes about this software.
Application has no UI customization properties. It just hopes that rover will respond on 192.168.0.110 ip address.
Program is configured for fixed LCD resolution (1024×768)
It displays video stream of 200px wide (for better video perfomance)
To drive forward touch upper LCD part (the higher, the faster). To drive backwards do the opposite.
To turn, lean tablet or phone left or right.
Manoeuvrability becomes less responsive the faster you go.
Exit must be performed hard way – by killing it from task manager.
Android application (and sources) can be found on githuib. (it is derived from some mjpeg streaming software, so beware – name is still the same). Also I should credit authors, but unfortunately I don't remember where I got this example.
Some ideas for future
Bigger/faster motors (which ones)
Wider front camera lens (to be able to see wheels)
Custom panoramic lens for second camera
Custom controller

Integrated charger
New protocol with discovery
Accerometer
Compass
Current/voltage monitoring
Head lamps with control
Arduino for custom functions?

Switch (debug port) selectable wifi AP/STA mode
Camera up/down control
Gripper?
Autonomic navigation?
Kinect terain mapping
Video keeps refocusing. In low light it is confusing. There is utility called uvcdynctrl to control camera parameters. At this moment it is unclear how shoult I port it to Carambola, but it should do the trick.