Modifying Logitech C920 for CS lenses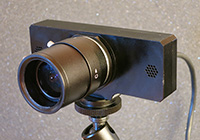 Logitech C920 is a wonderful webcam. It produces good picture quality and has hardware H.264 encoder. It can do real full HD streaming (1920×1080 p @ 30fps). But this webcam lacks one feature – it has fixed lens which sometimes is not acceptable. Also by removing stock lens you have access to infrared (IR) part of spectrum. There comes custom black anodized aluminium case.
This case can be purchased on Kurokesu e-shop
2014-09 update
Good news! I have received even more professionally manufactured C920 cases.
2014-07 update
 To minimize confusion I did not created new post, but updated old one instead. Since today I have several high quality black anodized casings in my hands. I share some pictures and assembly guides with you.
C920_CS_case – Here you can download PDF manual.
Aluminium case weights 77 grams, and assembled (without lens) 87 grams.
---
Original post
I vandalized plastic case, removed electronics and build my own version of it. Here comes improved aluminium housing, which is much more comfortable to use with most scientific applications.