Custom made IR-block filters for C920 case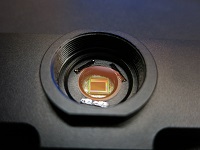 In addition to Logitech C920 case since now I have also custom made IR blocking filters. These are high quality thin (0.2mm) optical glass filters that blocks all IR light. Picture quality is as good as original filter sourced from Logitech lens assembly, well quality is good enough but filtering range is not that good. First batch mistake – working on improvements.
What is it
In case you missed blog post about custom Logitech C920 case this IR filter is to be used with it. After modification original lens assembly must be removed. IR block filter gets removed as well. Because original filter is not large enough it is impossible to attach it to aluminium case, so I have designed and ordered custom IR-blocking filters. I am offering these in addition to kit already available.
Mounting options
Filter is designed to be mounted on aluminium case itself, so image sensor and lens are untouched.
There are two options to mount:
Closer to lens – better option because dust settled on IR filter will be invisible in final image.
Closer to image sensor -there some lenses (mostly cheap ones) that protrude further to sensor and can collide to IR filter.
How to mount
There are multiple mounting options, I used "3M 300LSE Double Sided Transparent Adhesive Tape for Cell Phone LCD Repair". It is very thin and narrow. Also filter can be glued to case. Most of glues meant for glass/metal will work, just don't use "super glue" (glue based on cyanoacrylate) or other that leaves residue when evaporating.
Update 2014-10-24
After some analysis of existing camera hot mirror / low pass filters (which should have been done before ordering filters) noticed that filter is beyond visible range above 50nm. See chart below. Anyway this filter looks like hoya filter.
I am also working on IR high pass (for filtering out visible light and passing through IR) and green (for laser) filters. If you are interested in in some other specific ones, leave a note.
Update 2014-10-26 -various filters mounted on camera
Update 2014-10-29 – measured filters
Update 2014-12-03 – received IR650
Received new filters that perform like original C920.
Here is sample picture