Professionally made Raspberry Pi B+ aluminium case GIVE OUT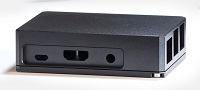 Yesterday night I received note from DHL that package is cleared. I was so anxious to open it and unpack first case that it was hard to get a sleep. It was even harder to wait until midday when DHL received package from customs department.
First impression
Could not wait for courier to bring it to doors, instead drove to pick it by myself. After opening the crate my impression of this beautiful aviation grade sandblasted black anodized case met my expectations perfectly. To be short – it feels like your lovely Apple MacBook laptop, except it's black.
Background
Most of the day I work as hardware engineer, so it is not the first time I design things and manufacture them. Usually I make prototype with CNC machine by myself or we send it to 3D print/mockup company. In most cases there are things to adjust after reviewing – that's why this stage is so important. Even if it is costly, it saves money and time.
Ooops…
As you have guessed – this time I skipped mockup phase. I was to confident in what I was doing and decided to go straight for pilot run. As a result Raspberry Pi B+ board does not fit new case. And I have whole crate of them.
Self adjusting
Actually these cases can be modified pretty easy to fit RPI B+, but it will not look like factory made. If you decide to modify by yourself no special tools will be needed – just a drill, pliers and small diamond file (if you prefer nice edges).
Places to hack:
Drill bigger hole for A/V socket (wrong of A/V connector dimensions – I cut my A/V connector to see how off-center it is)
Break thin wall at the connector panel (wrong USB connector size and position)
Even after these modifications it's not so easy to fit RPI into this case. Be careful.
Conclusions
This pilot run was expensive and scaled up mockup. I will adjust design soon and order new batch. Stay tuned!