Raspberry Pi B+ case is now available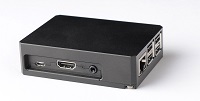 Good news. This beautiful aviation grade sandblasted black anodized Raspberry Pi B+ case is now available. Raspberry Pi fits just perfectly now. This is v2 revision of industrial RPi B+ case. Take a look at some pictures below.
Included kit parts
Top and Bottom aluminium parts
Screws 8 (pcs)
Allen/hex key
Thermal pads
You don't need any other tools to fully assembly your Raspberry Pi B+ into new case.
Drawings
Below are some drawings from prepared PDF file.
If you need one, please write me an email, if you have other questions – leave comment below. I will answer to all questions.
Also if you need one customized according to your needs, don't hesitate to ask. I can arrange manufacturing process for small quantity.