Huge gaming dice made of solid block of aluminium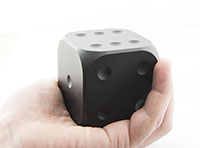 This is unique huge and heavy dice. It is made of solid aviation grade aluminium and weights 575 g (20.28 oz in imperial system). Dice is CNC machined, then sandblasted and black anodized.
Solid aluminium dice feels very nice to touch, textured surface after sandblasting and anodizing feels like macbook unibody, except it is solid black.
It is not 3D printed, nor made not from plastic – it is real solid aluminium CNC machined block! If you are eager to hold something in your hand while thinking or contemplating, this dice is for you. Also it is good "argument" against your opponent, meanwhile it still can be used as regular dice. When laser engraved it could be best souvenir for any occasion.
Specifications
H=60.0 mm
D=60.0 mm
W=60.0 mm
Weight=575 g