Precision steel touch probe for CNC machines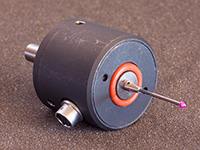 Starting new project – LP0018D – best in the class digitizing touch probe/edge finder. After long research and many adjustments finally preparation is complete. Time to review first samples. Like all of my previous projects it is funded completely from my pocket, so should be reasonably priced and I am not rushed by crowdfunding bull*hit.
Introduction
This touch probes is made of tempered steel and electroplated, reference surfaces are grinded after. If this is not enough, it is completely hermetic, and filled with special dielectric fluid (which also enhances contact, stops oxidation, …). And if this is still not enough – all contacts (pins, balls, springs, and PCB will be coated in gold at least). So if you don't crash it – it will be immortal.
For testing I have made metric 8mm shank. I it will be good enough for most of machinists, but in future if there will be demand I will introduce other accessories.
At first let's take a look at parts involved in this design. Did I mentioned – all parts are custom made from my carefully selected vendors/manufacturers. To be precise 7 of them.
Steel base – hardened and black electroplated and grinded for precise reference surfaces
Silicone gaskets
Main compression spring
Gold plated contact springs
Gold plated dowel pins
Gold plated steel balls
Plastic parts to contain parts
PCB (not yet from professional PCB house, but it will be ok for testing)
Quick release snap action aviation grade (rated by manufacturer) connector
Stylus with 3mm Ruby tip and M3 thread. (Renishaw compatible)
Today I just assembled one of these touch probes. Will test later and publish results. Initial tests seems positive. Stay tuned.
Adjustment
3 dowel pins glued unevenly (hey, first try to assembly), so trinocular part is slightly unbalanced. Good chance to calibrate, which is done via 3 set screws in the upper steel part. Here are some results.
Also, did I mentioned I am in love with this aviation grade connector. It makes a pleasant snap when connected.