Carambola controlled DSLR uploads photos to Dropbox. Made for "Makers Fair @TEDxVilnius 2013"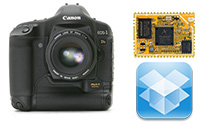 To show off some of Carambola2 from 8devices possibilities I have build setup, which involves DSLR camera, 3G router, autonomous power supply and USB flash disk. It captures single picture every minute and uploads it to shared Dropbox folder.
For more details how this can be achieved look at recent post Carambola2 on Cloud (Dropbox). As it is very similar to previous one I will not fall into details how it's constructed but share some pictures instead. This setup suits better remote events without electricity nor Internet connection.
DSLR camera is set to never sleep, Carambola2 connects to it via USB. Sets shooting mode, parameters and commands to take a picture. This happens once a minute. After picture is taken, script downloads last image and saves it to USB flash disk for local storage. Next uploads to earlier prepared Dropbox folder.
Here you can watch all pictures combined to single short time-lapse video. About 5.5 hours in 18 seconds.