Industrial low light 1080p@30fps USB camera (with h.264 on-board codec)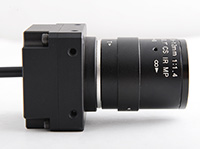 Superior low-light performance 1080p@30fps with h.264 on-board codec USB2.0 camera featuring Aptina sensor in an aviation grade solid aluminium sandblasted and black anodized industrial case.
About
This camera, lets call it LP0262A, besides good normal light performance also can operate in low light conditions. Of course you can't expect very low noise on high gain operation (dark picture) from this kind of sensor, but meanwhile most USB cameras see only black picture, this camera can display a decent view. For extreme low light operations frame rate can be reduced thus enabling longer exposure rates. Daylight picture quality is also very reasonable and comparable to high quality Logitech C920.
Features
High quality precision industrial aviation grade black anodized aluminium case
1″-20TPI thread for CS lens
Multiple mounting options (all side walls and top hase M3 tapped holes) for machine vision or robotics
1/8″ thread for tripod mounting
Optional IR-block filter (on custom order any filter can be manufactured)
Format:  1/3-inch (5.8mm)
Imaging area:  2304H x 1536V (5.07mm x 3.38mm)
Sensor pixel size:  2.2μm x 2.2μm
Sensor dynamic range:  72.4dB
Sensor sensitivity:  1.9 V/lux-sec (550nm)
Double YUY2/MJPEG + h.264 streaming
UVC compatible
Pictures of a camera
Sample pictures and video
Synthetic test
This test shows that LP0262A camera has much greater light sensitivity, but this feature can be used in manual control mode. My lux-meter has not arrived yet, so can't say how bright was the light. Instead take a look at comparison with Logitech C920 camera.
Night performance
It should be noted, that LP0262A camera is set to long exposure + high gain manual mode.
Usage cases
Robotics applications
Machine vision
Microscope/telescope digitizing
Laser 3D scanning applications (suitable for david-3d and other applications)
Skype conferencing
Note
Some engineering samples are available on ebay. Please check my listings.